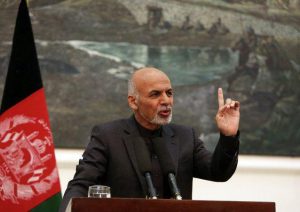 Afghan president M. Ashraf Ghani has said we owe to our hero soldiers, praising the championship and bravery of country's security and defense forces, while condemning the assault on Paktiya police headquarter.
The president stressed that the names of the martyrs and brave soldiers of the country will be recorded at the golden leaves of this land's history, ARG palace reported.
"The government looks at the future with peace and human rights values, but terrorists emphasize on the continuation of the war," the president added.
"We stand against these criminals and defend our land. We will not allow the country to become a safe haven for terrorists and a backyard for their supporters," he further said.
Meanwhile, according to reports, 42 persons were killed during the attack on Paktiya police headquarter.
A source in Paktiya province said, more than 20 police and 20 civilians were killed and more than 150 others injured in the Taliban's attack on Paktiya police headquarter.
"110 of the injured people are civilians," said deputy chief of army staff Murad Ali Murad at a news conference.
Taliban massively raided to Paktiya police headquarter on Tuesday morning, which clashes continued for 4 hours.