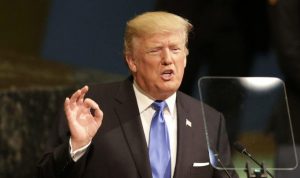 Meanwhile, the Iranian president Hassan Rouhani says from now on, we will step up efforts to build up weapons and to strengthen our military.
US president Donald Trump in his latest rhetoric in which he presented America's new strategy against Iran, has said he will do his best to prevent Iran reaching nuclear weapons.
"Iran's actions are not acceptable to American and its allies," Trump added, accusing Iran of supporting terrorism, and attempting to obtain nuke weapons and missile industry.
According to international media, the US president said the deal (Bargam) was the worst deal ever signed by the United States. Washington will make every effort to ensure that all its materials are put into operation by Iran.
"Worst of all, the deal let Iran continue some part of its nuclear programs, and more importantly, within a few years, while key restrictions are lifted, Iran can quickly move towards nuke weapons," said a part of US strategy against Iran.
The US president also warned that if Iran does not act in accordance with the deal, America and its allies in the region will do their best to prevent Iran from acquiring nuclear weapons.
On the other hand, in response to Trump's rhetoric, Tehran once again stressed on its defense and military industry, saying it will double its efforts.
The Iranian president Hassan Rouhani reacted to the words of Trump, saying from now on, he will do more to reinforce his military capabilities.
"If one day our interests are not met, and if our rivals trample their commitments, they should know that Iran will not hesitate and respond to it," he added.
The Iranian government has been accused of trying to make nuke weapons, backing up terror groups (desired by America), and creating tensions in the region, something that has always been rejected by Iran.