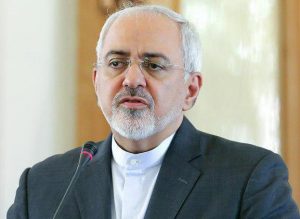 The Iranian foreign minister in response to Donald Trump's rhetoric about Washington's new strategy on Iran and the nuclear deal, vowed: "we had and will conduct appropriate measures against US actions."
"We did and will carry out suitable measures against America's actions. The supervisory board on Bargam outline the frameworks to deal with the violations of Bargam. Policies will be taken within the framework of the joint commission and the policies of Iran," said Mohammad Jawad Zarif, the Iranian foreign minister at a live program of the country's "Negah 1" TV channel.
"Trump's words at the general assembly, do not comply with Bargam's 26, 28, and 29 articles. American officials should not have negative statements about Bargam. We say these words to Ms. Mogherini, the EU's foreign policy chief," Mr. Zarif asserted, adding that he will write a letter, rejecting Trump's rhetoric tomorrow or the day after.
The US strategy against Iran has followed various regional and global reactions. The high-level Iranian officials have also criticized the hostile policy of Washington against Tehran and stressed on boosting their country's military-missile capabilities.