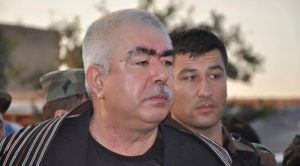 Yesterday, president Ghani at a press conference in ARG, stressed that General Dostum's file is a judicial and justice matter and the government does not interfere. He also said that Mr. Dostum's case is "a legal dispute between two individuals."
It has been a few hours that Hugo Liorens, acting head of U.S embassy in Kabul vowed that his country backs the prosecution of this case and possible legal action in this regard.
The acting head of U.S embassy even warned that any political use of Ahmad Ishchi's case will harm the rule of law, ensuring peace and stability in Afghanistan.
American embassy supported Dostum and Ishchi's file, while president Ghani had considered the case as a legal issue which is just related to justice and judicial authorities of the country.
Today, it seems that Dostum's case is more likely to be a trap than a mere legal and judicial matter! However, we have always witnessed that flagrant and hidden hands are trying to misuse this case since the dispute emerged between general Dostum and Ahmad Ishchi. They have sought to inflame the country's political and social atmosphere, using the story.
Various speculations come ahead, as U.S embassy meddled with General Dostum's file. Perhaps the American embassy in collaboration with ARG (presidential palace) is pursuing a special goal out of the case and seeking to put a controversial political figure in the challenge and finally, in order to permanently eliminate a figure who often had a loose and severe role and sometimes had been aggressive and rebellious against governments.
But Mr. Dostum's case has become a useful and interesting subject for those who either have a problem with General or with the government; in the meantime, according to general's previous activities, there is a speculation that the United States seeks to weaken and politically eliminates Mr. Dostum; General Dostum's politics have been at odds with U.S strategic goals in Afghanistan, which has also led Mr. Liorens to stress on the serious consideration of General's file; otherwise Gen. Dostum is not different from his other political rivals who have a head in ARG and another in blessed castle in Washington, taking order from there and sometimes are supported as well.
Now, America is seeking political gain from the controversial case of first vice-president; therefore, forcing Mr. Dostum to retreat against ARG on the one hand, and on the other, destroying one of the tribal elders forever, who has an untidy political life and sometimes puts America into trouble!