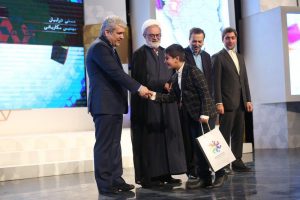 Closing ceremony and awards presentation of Noor Student Competition; Recognition of Prof. Jackie Ying (the 2nd round) was held and the winners from over 5000 nominations from different countries were honored for their remarkable achievements.
On September 1st, coinciding with the Eid al-Adha, the closing ceremony of the second round of Noor Student Competition; Recognition of Prof. Jackie Ying successfully took place at the "Hozeh Honari – Andisheh Hall" in Tehran. The winning students and top educational centers were honored and praised for their achievements. According to MSTF.
The Noor Student Competition 2017 has been named after Prof. Jackie Ying, one of the prominent scholars of the Muslim world in science and technology. Jackie Ying was also one of the laureates of The Mustafa(pbuh) Prize 2015 – the science and technology award – for her achievement in the field of Bio and Nanoscience.
This event was held attended by Sorena Sattari, Chairman of Policy-making Council of the Mustafa(pbuh) Prize; Mahdi Saffarinia, Secretary of the Council and guests include winners and their families and academic figures.
The 2017 winners were selected based on their efforts, initiative, and creativity and attractiveness of submitted works. 50 selected works will enter a TV-broadcast contest and they will be broadcast in turn within a TV program.
"Noor Student Competition provides opportunities for students to develop in theoretical and sophisticated sciences such as mathematics, physics and chemistry. Being recognized, scientific breakthroughs, expanding the boundaries of knowledge and to be known as a future scientist in the Islamic world are intended objectives and accomplished effect of Noor Student Competition" Said Mahdi Saffarinia in his speech in this ceremony.
Pointing out that Noor Student Competition allows students to be familiar with different sciences, Saffarinia added: "during this event they find chance to learn team working which itself is basically very valuable."
5109 students in form of 2194 groups took part in second round by sending a sum of 1194, one -minute films of their scientific experiments. The participants were allowed to compete in all fields of science including physics, chemistry, biology, mathematics and astronomy.