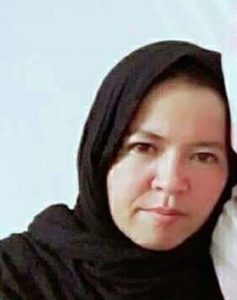 Zahra was a student of the Faculty of Veterinary at Kabul University. She came from central Daikundi province, and was staying at the girl's dormitory of Kabul University. She was studying with great excitement. She was the daughter of a family with an agricultural background and hard work.
She has recently finished her monograph, having no money, but her sister had paid her expenses. She had fostered chickens and sheep, and documented the result at her monograph, but someone called "Tenin" was the professor of the thesis and did not accept it.
Zahra's roommates narrate that her spiritual and mental status was severely damaged after the instructor teacher rejected her thesis. She was crying and was not that cheerful girl. Zahra was considering a lifetime of her education and hard work defunct. There was no longer any hope of being alive and continuing forward. Overnight, she was over. She ate "rat poison" but nobody believed it. It would seem that all were united to send Zahra to the grave. Her mouth was foamed, she was not feeling good but no one understood her.
They did not let her get out of the dormitory, asking for her student card. The student card appeared like a ruthless executioner, not allowing anyone to take her to hospital.
The student card, the student card, the student card. Where was it?
But now, this voice resonates in the ears "Zahra did not commit suicide, they killed her."