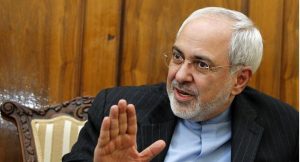 Muhammad Javad Zarif, Iran's foreign minister asked America to give up threatening, Iran is not an easy target.
"America's measures for imposing new sanctions against Iran, is an attempt to provoke Tehran." The high-level diplomat in an interview with (BBC) said.
Iran's foreign minister warned, in case, new sanctions be imposed against his country, Iran will carry out similar measures in response, too.
He also emphasized that in these cases prudence be prevailed, because Iran is not an 'easy target'.
Mr. Zarif said that Iran does not start any hostility, however his country had never been hostility primer and does not have such programs; but Iran will defend itself against any threat.
In regard to Iran's missile program, he said that this is a defensive plan and we are not looking to provoke anyone.
Mr. Zarif, in relation to the remarks of U.S officials, Israel and Saudi – Arabia against Iran that if Tehran does not perform actions, we have options on the table, said: first of all, we are talking about international laws, not jungle law. According to international laws, those options are violation of these rules. We ask them to respect the international laws as well as having foresight to not put themselves in serious troubles.