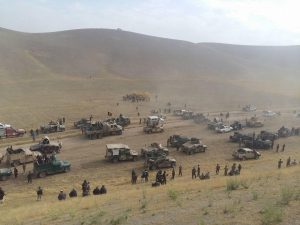 Security officials in Faryab province reported that 31 Taliban were killed and wounded in Pashtun kot district of the province.
"As a result of Nawid 2 military operation in the frame of Khalid operation which is underway in Sar-e Hawz area of Pashtun kot Faryab's district since three days ago, 17 Taliban including "Mawlawi Shershah" one of their commander, known as Furqan were killed and 14 others injured." Abdul Karim Yuresh, press officer of Faryab's police command told (DID) news agency.
On the other hand, Mr. Yuresh says that as a result of "Nawid 2" military operation, Taht-e Zaghn, Aq-Cheshma, and Aq-Dara villages were taken back by the government.
Press officer of Faryab's police headquarter also said that three Taliban stronghold has been destroyed by security forces in Pashtun Kot district.
"One police was killed and 2 others wounded during clashes between security forces and the Taliban," he added.
Security officials of Faryab say that Nawid 2 military operation with national police, national army, commandos, and air forces of resolute support will be continued until cleaning up all the lost areas of Pashtun Kot district.