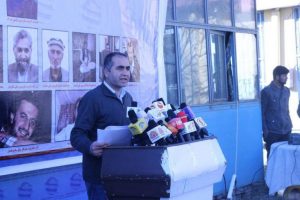 Nai-Supporting Open Media in Afghanistan announced during a press briefing held in Kabul that the year 2017, was the bloodiest year for journalists in Afghanistan.
In 2017, Nai office has recorded 4 mass violence and 91 cases of various violence against journalists.
Meanwhile, 11 journalists lost their lives across the country, putting Afghanistan in the third place after Syria and Mexico as insecure countries for media employees.
"Last year, was the bloodiest year for journalists in the country, with 14 death and 401 cases of violence against journalists, and this year is the same as the last year," said Mujib Khalwatgar, head of Nai bureau.
Describing freedom of speech as the greatest achievement of the Afghan government during the past 15 years, the chairman of Nai said: "with great regret, this achievement has suffered the most as violence increased against journalists in recent two years."
"Last year's back to back attacks against journalists indicate hostility against freedom of speech and stifle Afghan people's voice and freedom of speech, but Afghan journalists have always been courageous and accountable for events across the country," Mr. Khalwatgar added.
"Unfortunately, in the first step, Afghan authorities are violent against journalists, and in the second step, armed oppositions; Afghan government must be responsible in providing security of the journalists," head of Nai bureau continued.
This comes as armed oppositions of the government stormed Afghan Voice news agency and Tebyan social-cultural center Thursday killing at least 30 civilians and injuring 50 others.
Ali Basij – (DID) news agency
Translated by Taher Mojab