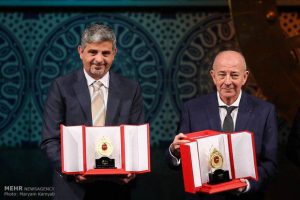 The 2017 Mustafa(pbuh) Prize Ceremony was held on 3 December, at Tehran's Vahdat Hall, coinciding with the birth anniversary of Great Prophet Muhammad(pbuh), attended by Senior Iranian officials, representatives of OIC countries along with over sixty prominent scholars and scientists from Islamic countries.
According to MSTF media outlet, the 2017 Mustafa(pbuh) prize was granted to the laureates Prof. Gelenbe in the field of "Information and communications technology (ICT) " for his pioneering research on "Modeling and Performance Evaluation of Computer Systems" and prof. Shokrollahi in the field of "information theory" recognition of his outstanding work on "Communications: Raptor Codes."
Prof. Shokrollahi referred to his childhood as his sisters were motivating him since he was eager to learn. "In fact, my family and specially my father help me," he stressed.
The other Mustafa(pbuh) Prize laureate, prof. Gelenbe pointed to the background of Islamic studies, scientific works and scholars such as Al-Khwarizmi and other experts that they all have put the basement of their efforts on Islamic thoughts.
"I have designed a material that helps better understanding of details and computers," said prof. Gelenbe.
The Chairman of Policymaking Council of the Mustafa(pbuh) Prize Sorena Sattari granted the Mustafa(pbuh) Medal, a Diploma and $500,000 and an appreciation tablet of the Foundation to the laureates.
"Muslims have never made any weapon to kill humans and they had been struggling for equality between all human being due to their beliefs which were taught by Prophet Muhammad(pbuh)," he said.
Addressing to the participants, the secretary of Mustafa(pbuh) Prize Policy-making Council Mahdi Safarinia described the mission of MSTF to support and develop science and technology throughout the world.
"Mustafa(pbuh) Prize tries to be the focus of the Islamic world and improve the areas of international cooperation regarding science and technology," he said.
"Mustafa(pbuh) Prize is laying the foundation to restore the Islamic Golden Age and empower other states," he added.
The Head of the 2017 Mustafa(pbuh) Prize Scientific Committee Hassan Zohoor, noted: "the nominees were elected among 700 Muslim scientists, 200 scientific institutes and organizations in the Islamic world".
"In the three specialized fields of the Mustafa(pbuh) Prize, the nominees should be Muslim and frequently travel to their home countries, but they do not have to be necessarily Muslim in the fourth general field which includes top scientific achievements in all areas of science and technology. However, there would be no other limitations regarding gender, religion and age." He added.
"363 international institutes, 51 Islamic countries and 1622 scientists from 28 countries had attended the nomination process of 2017 Mustafa(pbuh) Prize," Mr. Zohoor continued.
The first round of Mustafa(pbuh) Prize was held in 2015 in Tehran and Professor Omar Yaghi, from Jordan in the nanoscience and nanotechnology, and Professor Jackie Ying, from Singapore in Bio-nanotechnology categories, were the receivers of the awards.