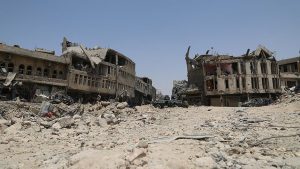 Over 2100 civilian bodies have been detected under the ruins in Mosul, and some 500 corpse are still under the ruins, Iraqi interior minister vowed.
Speaking to Anadolu Agency, the civil defense official of Iraq's Ministry of Interior, Saad Hamid, said that more than 2,100 civilian bodies were found under the ruins and 400 to 500 corpses are still under the ruins and added that the team faced "lack of equipment and various security problems such as Deash members firing from hide outs, bunkers, tunnels or basements".
Despite that the operation would take up two months to finish, Hamid added.
According to official statistics, in 20 June, during the operation to retake Mosul from Daesh terror groups, 1,429 civilians were killed.
Earlier, the British Independent newspaper quoted from Hoshyar Zebari, the former Iraqi foreign minister that 40,000 people have been killed during a 9-month Mosul liberation operation.