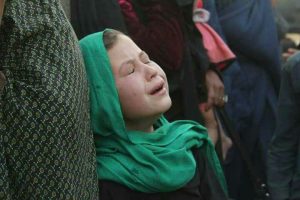 235 residents of Mirza Olang village arrived in Sar-e Pul province, after four days being held by scaremongers.
After the fall of Mirza Olang – a strategic area in Sar-e Pul's Sayyad district – and the genocide that was carried out by the scaremongers, 235 civilians were captured by the attackers.
The elders of Sar-e Pul province urged the scaremongers to release these 235 residents of Mirza Olang and finally, they arrived in Sar-e Pul province yesterday evening.
"The freed people are men, women, children and old people," Sar-e Pul governor spokesman Zabihullah Amani said.
"According to the released captives, the event was far worse and deeper than imagined," he added.
The people were temporarily settled at a mosque in "Chilan Gum" area of Sar-e Pul province.
On the other hand, Northern security officials reported about the launch of a widespread operation to retake Mirza Olang valley.
"A large convoy of ANA forces has been deployed in Sar-e Pul to retake Mirza Olang in coordination with other security organs," Shaheen corps spokesman Nasratullah Jamshidi told DID news agency.
"Commander of Shaheen 209 corps Gen. Amanullah Mubin would lead the operation," Jamshidi added.
It is worth mentioning that Taliban and Daesh (ISIS) massacred the innocent civilian of the area after capturing Mirza Olang 4 days ago.
They brutally killed nearly 60 people including women, children and aged people.