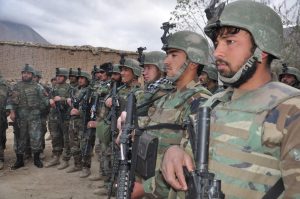 As a result of air and ground raids in Kunduz's Chahardara district, 24 insurgents were killed and wounded, officials at Shaheen 209 corps say.
"11 insurgents were killed and 13 others wounded, as a result of the operation carried out by Afghan Special Forces and air strikes in, "Dorman-Payin, Shinwariha, Wardakha, and Kharoty" villages in Chahardara district of Kunduz province," Nasratullah Jamshidi, a spokesman for Shaheen corps told DID news agency.
"A communication tool, along with 18 round of mines that were embedded in the area were detected and neutralized," Mr. Jamshidi added.
Afghan northern people spent the days of Eid al-Adha in a relatively quiet atmosphere as clashes between the security forces and the Taliban subsided.