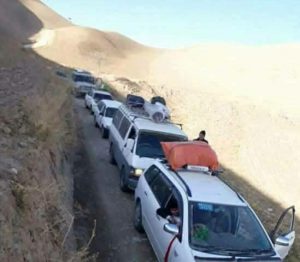 According to Tebar residents, clashes between armed Taliban and Afghan security forces ongoing in the village.
Reports from Sar-e Pul province indicate, about 3,000 families have been displaced as Tebar village fell to Taliban.
Tebar area handed over to Taliban three days ago by a leader of the popular uprising called "Karim Commander."
"Close to 3,000 families have been displaced as Karim commander handed over Tebar area to Taliban," Sayed Asadullah Danish, a member of Sar-e Pul's provincial council told DID news agency.
Meanwhile, Zabihullah Amani, a spokesperson for Sar-e Pul governor said, "1,000 families are in critical condition and only a few of them have received first aids."
"The government has repeatedly promised, they will help Sar-e Pul province but remained unfulfilled," Amani added.
He urged the central government to send aerial and ground aid to Sar-e Pul province as soon as possible.
"I have taken refuge inside a pit at a nearby village with some other villagers. The sound of fire comes in, and now that I am talking to you, our village is burning. We can see the brightness of the fire well," said Haji Dawoud, an ethnic elder from Tebar area.
"Only 30 families of my people have been displaced and we have not received any aids so far. The heads of state are sleeping at a warm place and do not know about the situation of the nation that how they spend their times during winter nights, having no house and are under the fire of war," he added.
Anti-government armed oppositions are using houses as shields. The issue not only slowed down the advance of the military forces in the area but also it destroyed the houses and civilians suffer casualties.
"The operations are advancing slowly, because the armed oppositions have taken positions inside residential homes," Zabihullah Amani said, adding: "8 civilians have been injured during clashes and 2 children have lost their lives. Meanwhile, 8 armed oppositions have been killed and 10 others wounded."
Tebar village in Sar-e Pul province fell to Taliban when a leader of the popular uprising called "Karim" surrendered to them.
Abdullah Salahi – DID news agency
Translated by Taher Mojab