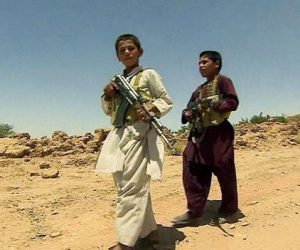 35 to 40 percent of anti-government manpower in Badghis province are underage people, according to reports.
These teens receive no salary and join Taliban by encouraging or by force.
According to (DID) news agency report, Abdullah Afzali, Badghis provincial council member says that more than 35 percent of Taliban members are between 14 to 18 years.
According to him, teens who are able to carry weapons or based on the fronts of the war, are taken to battle by Taliban.
On the other hand, underage people are encouraged by elders to join Taliban or by coercion.
Mr. Afzali added that the monthly salary of underage people is 150 Afghanis, which is ceremonial.
A lot of Taliban's income in Badghis is obtained through collecting alms from the people or by gathering booty, members of the group sometimes receive a share of the resident's farms in the province. According to him.
The provincial council member in Badghis province noted that when Taliban take the control of an area, all people in that area must have a military status and must have military cooperation with the group. Underage people are the most forces that are recruited by them.
But these Taliban teens are not trained and what Mr. Afzali noted, because of this 60 to 70 percent of Taliban casualties are the underage people.
Security forces have always faced with corps of Taliban group who were so young when rushed to Taliban positions, after the end of clashes.
He added that even the elderly are required to serve the Taliban in areas under their control. If they cannot fight, they have an obligation to engage in light work, such as delivering food and water.
In areas that Taliban are living, there is not such a thing as law and the command that is issued by their commanders, other members or the people have to accept it.
Badghis security officials have also confirmed underage people among Taliban members.
Ghulam Sarwar Haidari, police chief security officer in Badghis province said: their observations show that underage teens are used by Taliban in battles.
The security official said that casualties of underage people are more than other members of Taliban and the reason is their unfamiliarity with the principles of war.
Using children as a tool in wars is considered illegal and inhuman by the human rights' international laws, but has always been seen in all parts of the country that anti-government armed oppositions conduct such actions.