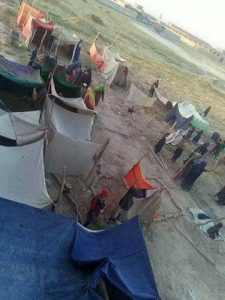 The living condition for 5000 displaced families is getting worse day by day, local officials said Sunday.
"The number of displaced people has increased in Jawzjan province, as a result clashes in Aqcha district," a spokesman for Jawzjan Governor M. Reza Ghafouri told DID news agency.
"Currently, five thousand families are in need of urgent help," Ghafouri said.
"These families are displaced from Faryab province, Darzab, Qosh Tapa and recently from Aqcha districts and now live in Sheberghan district, and in the neighboring areas," he said.
"The provided aids by the local rule are not enough and these families urgently need food, cloth, and shelter," Ghafouri said.
"Although from all organizations have been demanded humanitarian assistance, but the majority of them have not helped due to insecurity and inappropriate conditions," Jawzjan's governor's spokesman said.
He warned that if the situation continues, the displaced problems will increase day by day and a human disaster is expected.