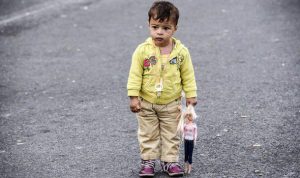 The number of displaced people in the world has almost doubled in 20 years, according to a report released today by the United Nations' refugee agency.
The UNHCR found that the number of forcibly displaced people has risen from 33.9 million in 1997 to 65.6 million in 2016. One in 113 people are displaced, compared with around one in 160 a decade ago. Every minute, 20 people somewhere in the world become refugees.
Just over half of all refugees were children (51 percent) in 2016, according to the report. The UNHCR also said that 75,000 asylum applications were made by children, mostly from Afghanistan or Syria, who were traveling alone or had been separated from their families, although this figure is probably an underestimate, the organization says. These unaccompanied children are far more vulnerable to abuse and illness than those traveling with a family unit.
The report also supplied data on host countries, revealing that Turkey hosted the most refugees in 2016, with nearly three million fleeing to Turkey for safety. Pakistan, which provides refuge mainly for Afghans, hosted the second greatest number last year, while Lebanon was third. Ongoing crises in sub-Saharan Africa have resulted in large and sudden population displacements, which results in neighboring countries opening their borders to those fleeing conflict.