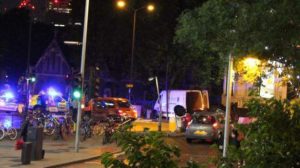 Six people have been killed and at least 48 injured in a terror incident in London in which three male attackers were shot dead by police.
A white van hit pedestrians on London Bridge on Saturday, then three men got out and stabbed people in nearby Borough Market. Quoted from (BBC).
Meanwhile, Theresa May, the prime minister is scheduled to manage the emergency meeting "Cobra" to address London Saturday night attack.
Britain's Prime Minister and the police described Saturday night's events as "terrorist attack."
Police said the three men were wearing fake bomb vests.
No group has took the responsibility of the attack yet.