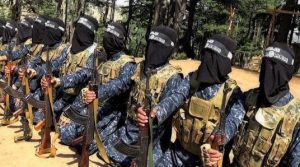 Seven Daesh militants were killed as a result of own explosives in Nangarhar's Pachiragam district, according to national defense Ministry statement.
On Tuesday, 18 July, a group of seven Daesh members were killed while intended to embed explosives inside a barrel in "Pachiragam" district of Nangarhar province. The statement said.
"Security forces have discovered and destroyed a large number of ISIS explosives in Pachiragam district of Nangarhar province," the statement added.
Nangarhar province is one of the main centers of the Daesh group, which according to the country's security agencies, the group has always carried out extensive activities, recruiting the youth of this province.