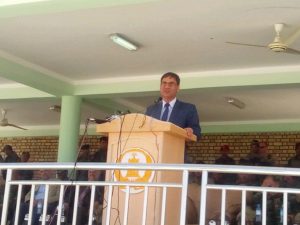 "70 – 80 anti-government oppositions were killed across the country during 24 hours," acting minister of defence said during his visit from Balkh province.
According to (DID) news agency report, General Tariq Shah Bahrami, acting minister of defence who traveled to Balkh province in order to sympathize with the victims of Sawr 1st incident and to visit Afghan national army (ANA) in north and northeast of the country, told reporters that during various operation across the country, 70 – 80 anti-government oppositions were killed during one day.
"These operations were launched in Nangarhar, Helmad, Kunduz, Badakhshan, Baghlan and Faryab provinces," he said.
Acting minister of defence pointed to the fall of Zebak district of Badakhshan and said: scaremongers want to capture these areas to keep open their supply routes to northeast provinces and have high goals in their minds. He considers the fall of Zebak district as a result of pressure and improper guidelines, and said that operations to recapture Zebak district are delayed due to bad weather condition, but Zebak district and some main centers of the enemy will be captured by armed forces soon.
However, General Bahrami reported about the launch of war season and the start of opponent's spring operation under the name of "Mansoury" and said, the security forces are fully prepared to suppress scaremongers.