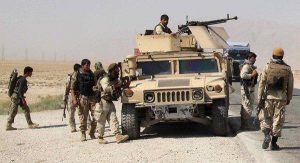 Local security officials in Faryab province say that clashes between security forces and the Taliban are underway on the road of Maimana-Mazar highway since four days onwards.
According to (DID) news agency report, Abdul Karim Urish, press CEO of Faryab police command, said that Taliban has begun their offensive attacks on security checkpoints on the road of Maimana-Mazar-e Sharif highway in "Shirin Tagab" district four days ago.
Press CEO of Faryab police command said that Taliban took the control of "Gurzad" and "Islam Qala" villages of Shirin Tagab district which located on the high way.
On the other hand, Mr. Urish said that as a result of clashes, 9 Taliban were killed and 13 others wounded.
"As a result of the conflict, 2 people of the popular uprising were killed and 3 others injured. A headquarter of one of the commanders of a popular uprising, known as "Mir Hamza" fallen to Taliban too," he added.
Faryab security officials say fresh troops to reclaim the lost villages have been deployed to Shirin Tagab District.
However, Maimana –Mazar highway is open to civilian vehicles, but Taliban target the government security vehicles from within the gardens, after the fall of Gurzad and Islam Qala villages of Shirin Tagab district of the province.