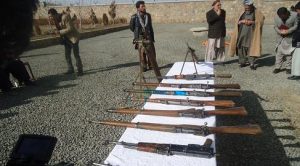 Officials in Chesht district of Herat province confirmed that a group of nine armed oppositions attended the peace process in this district.
Farhad Khadimi, district governor of Herat's Chesht district confirmed the adherence of a group of anti-government armed opposition to the peace process, and said: this group of 9 people was led by a person named "Haji Ghafor" in Takht valley of this district.
"They joined the peace process with their weapons due to the efforts of the Chesht district military council and security agencies," he added.
The group's weapons include eight Kalashnikovs and one rocket.
Mr. Khademi considered their joining effectively in providing better security in this district.
Meanwhile, several groups of the armed opposition in the western part of the country joined the peace process earlier.