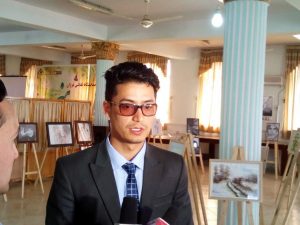 A group of Balkh artists by launching spring painting exhibition, calling for more government attention to artists.
According to (DID) news agency report, Ajmal Qasimzada, a painter who held the art exhibition, said that one hundred different artworks have been displayed that mostly outlined the subjects of nature and spring.
"Most of these arts related to myself and a few from my students in the "Puran" conservatory," he added.
He said the reason for naming the exhibition is to express the screed of people through art.
Mr. Qasemzada, considers the lack of permanent public gallery to preserve and display works, the difficulty to access the means for artists because of economic problems and lack of government support and low institutional support as basic problems of the artists.
Sediqa Mohseni, one of the artists, knows incorrect look of some people about the artworks, as another problem for artists. According to her, this problem requires public awareness and elapse of time.
Muhammad Qasim Paywand, responsible for "Ofuq-e-Sharq" cultural association, says that Afghans are rich in talents, but these talents have to be excelled and used.
He welcomed the government for naming the New Year, the year of Youth work, and asked the government to support the youth more than ever.
It is noteworthy that various cultural programs are held in Nawruz celebration annually, in which launching art exhibition is one of the Nawruz program.