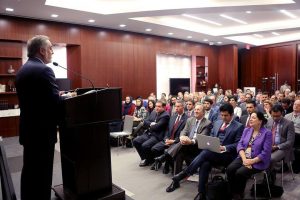 The Afghan chief executive Abdullah Abdullah who was speaking at the Center for Strategic and International studies in Washington DC, thanked the new US strategy on Afghanistan, saying that he and president Ghani are trying to make the strategy successful.
According to DID news agency report, Dr. Abdullah says, the news US strategy has posed issues which were expected.
"I and president Ghani will try to make this strategy successful, which is a major element of our equations," Mr. Abdullah said.
"Terror groups are a joint threat both for America and Afghanistan. There should be never any difference between them," the chief executive added.
The senior official warned the Americans: "if you do not fight in Afghanistan, the devilish forces who are trying to darken the country, will come to the US and fight against you."
On the other hand, the chief executive says, a number of countries back up terrorists and provide them safe havens but did not name any country or a specific address.
Dr. Abdullah supports and appreciates the new US strategy on Afghanistan while, former Afghan president Hamid Karzai disagreed with the strategy, saying Trump's new strategy for Afghanistan is a factor for continuation of the war.