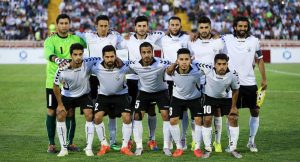 Afghan football team defeated Maldives team 2 – 1 in a friendly match.
The football teams of Afghanistan and Maldives met in a friendly match, which it was ended in the victory of Afghanistan.
Friendly competition between Afghanistan football team and Maldives began yesterday evening at 9:30 (Kabul time) in Dubai, United Arabic Emirate.
Hassan Amin scored a goal for Afghanistan at the 38th minute, then Ali scored a goal for Maldives team at the 41st minute of the game.
The first half ended 1 – 1.
In the second half, Afghan players scored another goal for Afghanistan and ended the game 2 – 1 in favor of Afghanistan.
It is scheduled that Afghanistan's national football team will set off to Cambodia after defeating Maldives and go to battle with that country's national team in the frame of qualifiers Asian Cup.
It is noteworthy that Afghanistan's football federation is a governing institution in Afghanistan. The entity founded in 1922 and now is a member of the Asian football confederation.