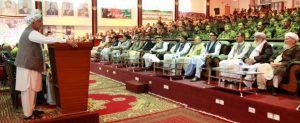 President Ghani, who left Kabul to inspect eastern provinces' security status, says that national unity government is ready for war and peace.
Mr. Ghani spoke about the increased capabilities and equipment of the air forces while visiting injured soldiers at the military hospital of "Saylab 201" corps.
Meanwhile, president Ghani added that $ 6 billion will be spent on the country's security and defense forces over the next four years.
Pointing to recent U.S strategy in the Afghan war, he said: after the announcement of the strategy, the resolute support mission has increased its support from country's security forces.
The president traveled to eastern provinces while Daesh (ISIL) in Nangarhar province, is a serious threat to the country.