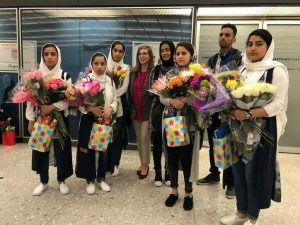 Afghan robotic girls finally landed in Washington amid a lot of noise and criticism, due to visa denial to the United States.
Today (Sunday, 16 July) they are going to compete with their global opponents.
The six-member team from Afghanistan attended the "International Robot Competition for High School Students" in Washington DC, according to VOA.
Afghan ambassador in Washington, Hamdullah Mohib who had gone to the airport to welcome the Afghan robotic girls, told the media that these girls are a symbol of development and the level of knowledge of Afghan females.
"These girls in the United States is proud for us, because the majority of people in the world hear the messages of violence and war from Afghanistan, and now with the arrival of these girls, the world is witnessing a positive and encouraging message from Afghanistan," he added.
It is worth mentioning that First, the US embassy in Kabul refused to issue visas to these girls, but after Barry Sanders, a senior democrat senate criticized it and the letter from 32 US lawmakers to the Foreign Ministry of that country, ultimately with direct intervention of President Donald Trump, a 10-day visa was issued to them.