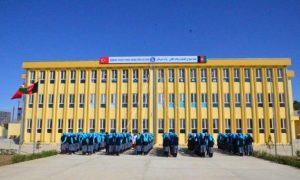 Hand-cuffed managers of "Afghan-Turk" who were detained over alleged links with Fethullah Gulen in Kabul on 12 December, will be one of the gifts from president Ghani to his Turkish counterpart.
President Ghani expects to receive a gift from Erdogan in return for this gift, and that is "General Dostum's lockup in Turkey."
General Dostum is so dangerous for president Ghani as Fethullah Gulen for Turkey. On the other hand, last week, president Ghani went to Uzbekistan to close Tashkand-Hairatan way on Gen. Dostum.
It seems, the Ghani's main program is to calm down his foreign partners, including Britain and Russia by removing Gen. Dostum as first vice president and replacing him with a seemingly rival and moderate individual, Dr. Abdullah.
Regarding the pressures and spread of rumors among Arg circles, president Ghani wants to use Dr. Abdullah to dismiss Ata M. Noor, Balkh governor, then, in order to maintain the ethnic balance and to calm down his opposition forces until the election as well as undermining both politicians of Hezb-e Jamiat-e Islami, Mr. Ghani will strengthen the conflicts between Abdullah and Ata M. Noor and appoint the winner of this battle as the first vice president.
The president has had frantic trips. He preferred to manage Kandahar Jirga controversies by the national security adviser and Gulbuddin Hekmatyar, but Gen. Dostum issue has a reputation of clearing his presidency file. Westerns are still dissatisfied with him because of an inconsistent election campaign. In addition, the president intends to turn the empty post of vice president as a place for controversy between his opponents. The next owner of this empty post will create less trouble for Ghani until the upcoming election, and the president thinks this empty chair will have a great cost in agreements between him and Hezb-e Jamiat Islami.
Now, these captive teachers and managers will be exchanged for a power struggle between the two politicians. The one who suffer, is the country's new generation that has always smashed in the game of power.
Mostafa Hazara – (DID) news agency
Translated by Taher Mojab