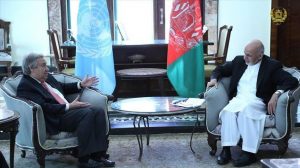 On his maiden trip to Kabul, UN Secretary-General Antonio Guterres urged the need for a peaceful solution to the Afghan conflict while urging Pakistan and Afghanistan to resolve their differences via dialogue.
Guterres concluded his one-day trip to the Afghan capital on Thursday. Upon his arrival in Kabul a day earlier, he met with some of the 800,000 Afghans displaced by conflict over the last 18 months.
"All those that are related to the Afghan crisis should come together to understand that this is a war that has no military solution, that we need to have a political solution. We need to have peace," he said. Quoted from (Anadolu agency).
Later in the day, Afghan President Mohammad Ashraf Ghani hosted Guterres at the Arg (Presidential palace). Ghani told Guterres about his meeting last week with Pakistani Prime Minister Nawaz Sharif in Kazakhstan where the two leaders agreed to use the platform of the Quadrilateral Cooperation Group (QCG) — the U.S., China, Afghanistan and Pakistan — for peace in the conflict-riddled country. Accusing Pakistan of harboring terrorists, Kabul has long blamed Islamabad for an "undeclared war" against Afghanistan.
The UN chief also met with Abdullah Abdullah, chief executive officer of the national unity government in Kabul. Abdullah spoke more bluntly about Pakistan. "At the regional level, Afghanistan's main problem is with Pakistan," he said, asking Guterres to convince Pakistan to support the peace process in Afghanistan, and stop supporting and arming armed rebel groups.
Wrapping up his short trip to Kabul, Guterres expressed hope the United Nations General Assembly next week will approve a new counter terrorism-structure, which he said would enable the UN to effectively support member countries against terrorism. He threw his weight behind an Afghan-led and Afghan-owned peace process.
"My message to any country that supports terrorism anywhere in the world is that this is the wrong thing to do," he said.