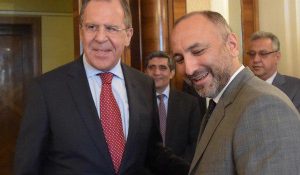 Hanif Atmar, president's national security adviser met with Russian high-ranking officials in Moscow.
According to a spokesman for the national Security Council (NSC), Mr. Atmar will speak with Russian officials on cooperation between Kabul and Moscow in the fight against terrorism and Narcotic drugs.
Tawab Ghorzang said that Mr. Atmar visited Nikolai Petroshiv, his Russian counterpart and Sergey Lavrov, Russian foreign minister.
Moscow has previously hosted six-party meeting among representatives of Afghanistan, Pakistan, China, Iran and India, where the meeting was to talk about peace in Afghanistan.
Earlier, Moscow confirmed its contact with Taliban with the aim to fight Daesh (ISIS).
National Security Council spokesman says, Russia asked clear aspirations from the Taliban that Kabul welcomes that.
As Hnif Atmar traveled to Moscow, Vladimir Putin; the Russian president said that his country is ready to help Afghanistan.
Putin said that Russia is ready to continue helping Afghanistan to wipe out terrorism and narcotic drugs.
Afghanistan's relationship with Russia during past 16 years was cold, but normal. Both sides have tried to refrain from provocative actions, not to refresh long grudges and avoid confrontation; but at the same time, perhaps influenced by the bitter experience of both sides during occupation of Afghanistan by the former Soviet's red army as well as a broad presence and immersive coalition from countries in line with Western bloc of the world led by the US in Afghanistan, relations between the two countries have never been warm enough that the two sides open special account on long-term strategic cooperation.
It seems that both Moscow and Kabul, intelligently managed relations prone to tension between the two countries well over the years.
Moscow responsibly support from NATO military mission led by America in Afghanistan, undoubtedly was one of the most important factor to reduce tension between the two countries.
In the meantime, however there is a while that Moscow tries to review its earlier approach in Afghanistan. It is thought unacceptable for Russia to remain marginalized and observer and do not involve in political and security equations of Afghanistan.
This important matter, influenced by several factors. One of the most important influential parameters, is that Moscow change its approach in relation to regional and international big issues.
Russia led by Putin attempts to revive the power and influence of Soviet Russia in international arena since several times onwards; an effort that requires its inevitable confrontation with America and the West bloc and to challenge the political and military missions in the areas of control and influence of each of the power poles.
Criticism of the results and consequences of America's attack and military presence and its allies in Afghanistan has recently fixed the base of Moscow's foreign policy and security in the region.
In addition, there is also another issue that forces Russia to take stance and movement on Afghanistan's cases and that Is, the rise of ISIS.
Russia considers ISIS a direct and potential peril against its national security and zones of influence in Central Asia and due to that, being close to Taliban is one of the ways to confront with the terror forces; an approach that provoked Afghanistan's sensitivity and reaction.
However, Afghanistan's participation in the six-party meeting on the initiative of Moscow, has somehow eased the sensitivity; while Moscow forced to moderate its stance on Taliban, following Kabul's harsh and explicit reaction and shows unity to Afghanistan government's fundamental approaches and policies towards the war and peace with Taliban; the stance that also reflected in recent statements of Vladimir Putin and welcomed by Kabul.
However, necessary confidence has not created between the two countries yet, to be hopeful to the future of this relationship and ignore the dangers.
At least one of the concerns is that Russia's contact with Taliban, eventuated to relations out of States' diplomatic norm with illegal armed groups, and gives the legitimacy beyond a banned terrorist group.
The second concern, is the fear of Russia's attempts to change Afghanistan into its influence and hegemony zones that the result will be destructive confrontation of two world power poles in the land of Afghanistan.
Nevertheless, it is expected that the government of Afghanistan, with exact and calculated management develope relation process with Russia, reduce the risk and collateral damage and prioritize the interest, sovereignty and the security of Afghanistan.