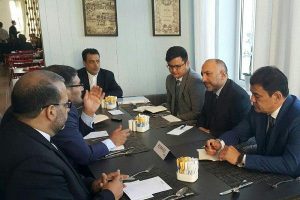 Iran, Russia, and Afghanistan have agreed to hold a trilateral summit headed by their respective secretaries of national security in Kabul in the near future, Head of Iran's Supreme National Security Council said Wednesday.
Ali Shamkhani made the announcement in a meeting with Mohammad Hanif Atmar, National security adviser to Afghan President Ghani, on Wednesday on the sidelines of the International Meeting of High Representatives for Security Issues held in Moscow.
During the meeting, the two sides conferred on bilateral cooperation in the fields of economy, security, border waters, fighting drug trafficking, as well as issues related to nationals and immigrants. Quoted from (MNA).
Shamkhani expressed satisfaction at the formation of quartet committees for joint cooperation and the appointment of Iranian and Afghan heads to the committees, adding "with Iran, Russia and Afghanistan's agreement, we will soon hold a trilateral summit in Afghanistan headed by the countries' national security secretaries."
The Iranian senior official highlighted the need for a joint countermeasure against certain countries which seek to cause insecurity and use it to have anti-Iranian terrorists in Afghanistan, adding "advancing the agreements between Iran and Afghanistan requires constant monitoring in order to prevent adverse measures by other countries."
Hanif Atmar, for his part, congratulated President Hassan Rouhani on his re-election, expressing hope that the two countries' bilateral relations would see a remarkable growth during Rouhani's second term in office.