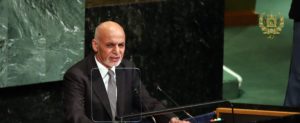 President Ghani at the U.N general assembly in New York, read the terror organizations having activity in Afghanistan as "imposed groups" on Afghanistan, saying Afghan nation is at the front line resistance against global terrorism.
At the annual U.N general assembly, Mr. Ghani stated Afghanistan's view about issues such as counter terrorism, the commitment of International community for cooperation and backing Afghanistan, America's new strategy on Afghanistan and South Asia and also the government's will in the fight against terrorism.
Counter terrorism, the role of women and youth in Afghan administration, fighting against poverty in the country and at global level, infrastructural projects and Afghan government's commitment in the fight against corruption were the main issues Mr. Ghani addressed at the general assembly.
He read terrorism as a global danger for all nations and states, adding that Afghanistan should be helped by the United Nations' member states, as Afghan nation is at the front line, fighting global terrorism.
"Terrorism is an advanced form of the 20th century Mafia and nowhere in the world in safe from their attacks," he stressed.
On the other hand, Mr. Ghani called on Pakistan to engage in a state-to-state dialogue with the Afghan government to review comprehensive ways to fight the terrorism and find a way to prosperity in the region.
"Afghanistan has showed its commitment to peace and signing a peace agreement with Hekmatyar is an example," he underlined.
Meanwhile, Mr. Ghani welcomed the change in the world's view, specially America on the war in Afghanistan and considered it as a good opportunity both for Afghanistan and neighbors to fight against terrorism and common threats through an honest approach.
The UN General assembly was an opportunity for Afghanistan to address its views to the world about terrorism phenomenon.