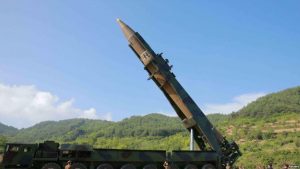 Afghan Ministry of Foreign Affairs condemns North Korea's "Hwasong-14" intercontinental Ballistic Missile Test, according to foreign ministry's statement.
"It is contrary to the U.N Security Council resolution," the statement added.
North Korea has recently launched a mid-range ballistic missile from a military center near eastern "Sinpo" port to the Japanese Sea.
The test was carried out on the eve of China's President, Xi Jin Ping's trip to the United States to meet with Donald Trump; a meeting that would tackle North Korea's nuclear programs and rockets.
"The Islamic Republic of Afghanistan considers provocative activities that endanger global peace and stability against the human values and peaceful lives, calling for a halt to similar activities," the statement said.
"Negotiations is the only logical and reasonable way to solve conflicts and to achieve peace," the statement added.