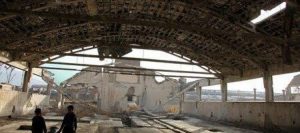 Afghanistan is going to establish a modern Sukuk printing company, which enable it to print its own money, in a joint investment with Germany.
The company will be built in Jangalak Industrial Township in southwestern Kabul.
Afghanistan and Germany will provide 70 million Euro for the establishment of the project.
"It will be built on 22 acres of land and equipped with modern technology allowing the Afghan government to print financial certificates," said Mohammad Ibrahim Shams, Chairman of the General Directorate of Enterprises and Government Companies. Quoted from (Wadsam).
Set up during the reign of King Zahir Shah, Jangalak township was once Afghanistan's largest industrial site. It was home for major industries including metal production and electronics. The years of wars in Afghanistan has left the township in ruins.
Afghan economists have urged the government to rehabilitate the Jangalak factory to help revive the country's deteriorating economy.