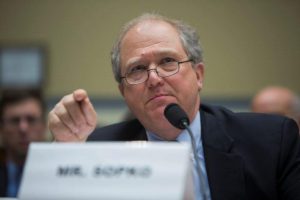 U.S Special Inspector General for Afghanistan Reconstruction (SIGAR) says that corrupt commanders of Afghanistan's national defense security forces must be prosecuted.
Special inspector general for Afghanistan reconstruction John Sopko stresses that the civilian sectors of Afghanistan's security institutions have not been addressed yet.
The latest report of SIGAR declares that Afghanistan's government leaders should take major responsibilities and must oust and boycott the corrupt officials from the defense and security institutions of the country.
While Trump administration has called for a fight against corruption and reform in the national unity government after announcing its new strategy on the Afghan war, SIGAR also underlined that the White-House should seek reform and counter-corruption in return to its contribution to the Afghan government.
American inspector general John Sopko hopes 'for changes' in Afghanistan government with its recent policies in Afghanistan war.
President Ghani had previously read ministry of interior affairs as "heart of corruption" and called for reforms and serious combat against corruption in other security institutions.