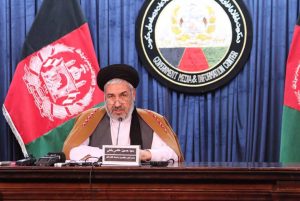 A press conference was held as the achievements of the ministry of refugees and repatriation in the fight against corruption in the state-run media center.
According to (DID) news agency report, Sayyed Hussain Alemi Balkhi said at the press conference that ministry of refugees and repatriation has taken an anti-corruption policy and implementation plan for the first time.
"In the past, the department was in the front row of corrupt administrations, but the function of the ministry has been described very transparent in the recent report of the anti-corruption monitoring and evaluation committee," minister of refugees and repatriation added.
At the end, he reported about the efforts of the ministry to have a serious and effective cooperation and coordination with the supreme audit office, the judicial institutions and international organizations.