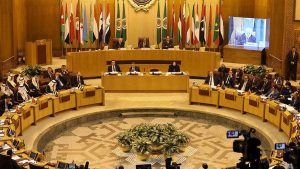 Arab foreign ministers during a meeting on Sunday condemned Trump's Jerusalem decision, saying it is a clear "violation of International law" that had no legal impact.
The Arab League called on the United States to abandon its move and said it would increase violence in the region. "The decision has no legal effect … it deepens tension, ignites anger and threatens to plunge the region into more violence and chaos," the Arab League said early on Sunday after an emergency session attended by all its members in Cairo.
According to the Guardian, the league said it would seek a UN Security Council resolution rejecting the US move.
Meanwhile, Lebanese foreign minister, Gebran Bassil, said during the meeting that Arab nations should consider imposing economic sanctions against the US to prevent it moving its embassy to Jerusalem from Tel Aviv.
Saudi Arabia's Foreign Minister Adel al-Jubeir has hailed the international consensus rejecting US President Donald Trump's decision to recognize Jerusalem as the capital of Israel and move the US embassy from Tel Aviv.
Speaking at an emergency Arab League meeting in Cairo, Jubeir called on the US administration to reverse its decision on Jerusalem.
On the other hand, the head of Egypt's largest Christian church vowed, he would not meet US Vice President Mike Pence when he visits Cairo on Dec. 20. A similar decision was made Friday by the head of Al-Azhar, the world's supreme seat of learning for Sunni Muslims.
The city's status lies at the core of the Israel-Palestine conflict, and Trump's move was widely perceived as siding with Israel.