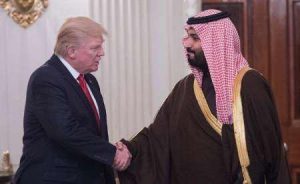 A large number of victim families of the September 11 attack, sent a letter to US president and criticized his policies on Saudi Arabia.
According to (DID) news agency report, victim families of the September 11 attack, said that the reason of writing this letter, was America's president visit with Saudi defense minister, as Riyadh is trying to clean its role in terrorist attack by money and propaganda and plays with America congress.
The letter was published by a US publication (the daily caller), that litigation cases from Arabia in America's courts, accused Saudi Arabia due to the role of its forces in backing perpetrators of the September 11th attack, 2001; but Riyadh shuns to accept its responsibility in the attacks and spreading extremism in the world.
The letter asserts that Riyadh is one of the financial sponsors of Al-Qaeda and Daesh (ISIS) terror groups.
Donald Trump had supported the approval and implementation of "Jasta" law in congress of the country – on the basis of Saudi Arabia role in the terrorist attack of September 11th , during presidential elections campaign in the United States.
Justice Law against sponsor of terrorism named "Jasta" which was approved by the U.S congress and votes of the two parties, allow the victim families of September 11 to complain from Saudi Arabia and get compensation.
Muhammad bin Salman, son of Arabia's king, defense minister of the country, visited with US president in the White-house on Tuesday. American media know the meeting as a sign of warming relations with Riyadh.
Relations of Washington and Riyadh had turned cold, at the end of Obama's presidency.
Report of America intelligence sources indicates that nearly three thousands American people were killed in the September 11 terror attack, 2001. 19 Arabia citizens had hand in this attack. They were members of Al-Qaeda terrorist network that led by the Saudi capitalist, "Osama bin Laden".