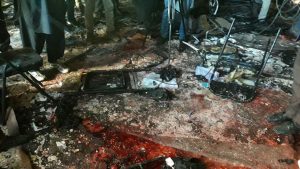 President Ghani condemned the attack on Tebyan social-cultural center, calling it a "crime against humanity."
In a statement released by the presidential palace, Mr. Ghani says: "The terrorist have killed our people. The terrorists have attacked our mosques, our holy places and now our cultural center."
He called them attacks as against Islam and "all human values."
The presidency ordered health officials to help and treat the victims of the incident as soon as possible.
Reacting to the deadly attack on the Afghan Voice news agency and Tebyan social-cultural center, Amnesty International's South Asia Director, Biraj Patnaik, said: "This gruesome attack underscores the dangers faced by Afghan civilians. In one of the deadliest years on record, journalists and other civilians continue to be ruthlessly targeted by armed groups."
"With the Afghan capital hit once again, no one can credibly claim that Kabul is safe. The European governments who insist on this dangerous fiction by forcibly returning Afghans are putting their lives in danger," Mr. Patnaik added.
UNAMA also condemned today's attack on civilians in Kabul, saying preliminary reports indicate high civilian casualty numbers.
According to Afghan Voice news agency, more than 30 people were killed and more than 40 others wounded.
This comes as the Afghan interior ministry confirmed to DID news agency that 25 people were killed and 32 others wounded but National directorate of security said that at least 30 were killed and 40 others injured.
This is not the first time that cultural centers and media outlets are targeted by suicide attackers. Shamshad TV station was also hit by suicide bombers in October.