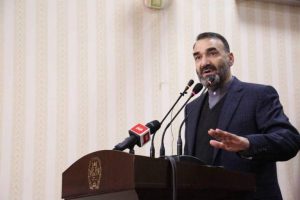 Speaking among elders of Panjsher province in Mazar-e Sharif, Balkh governor Ata M. Noor said: "if the government does not retreat, we will take harsh movements."
"We want social and political justice," said Mr. Noor addressing to the government.
"I am one side of the current establishment, not an employee and the government cannot remove me as governor by force," Ata M. Noor emphasized.
The powerful Balkh governor says he will insist on his stance as long as the legitimate demands of people are met.
Warning the government, Mr. Noor added: "the presidency is plotting against us to protect itself and will never succeed."
In relation to widespread corruption within the government, he underlined that our goal is to root out corruption.
"We are the owner of this country by giving over a million martyrs and defeated powerful countries in the world," he further said.
In all, Ata M. Noor once again emphasized that ARG should move peacefully with him, not by force.