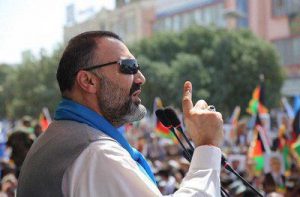 Balkh governor Ata M. Noor expressed grave criticism against Gulbuddin Hekmatyar and warned the government not to worsen the Situation.
According to DID news agency report, Ata M. Noor, one of the powerful political figure who was speaking at a conference of Samangan people – declaring their support from the "coalition for the salvation of Afghanistan" – criticized the stances taken by Gulbuddin Hekmatyar, leader of Hezb-e Islami and said: he seeks controversial issues in the country.
Balkh governor, who was speaking at a backing-ceremony of Samangan people from the coalition for the Salvation of Afghanistan, addressed to Hekmatyar: "you were in Iran for four years, you had the best house in Iran, then accuse us of having contact with Iran?"!
He added that Hekmatyar speaks against Iran and Shia people, in order to get more money from Iran's rivals.
Pointing to suicide attacks carried out by Hezb-e Islami in the past, and the accusation of cutting Asif Mohmand's ear by Hezb-e Islami to Mr. Noor, he said: "the first time, suicide attacks had been carried out by Hezb-e Islami females … now cutting an ear and accusing others is not a difficult work."
Balkh governor also showed reaction to previous rhetoric of Hekmatyar that said: "the next Afghan president will be someone approved by Hezb-e Islami" and said: "leader of Hezb-e Islami "exaggerated" and the nominee of Hezb-e Jamiat will be the winner in the next election.
The country's prominent political figure continued its strong criticism against the leader of Hezb-e Islami and added: "you shamelessly came, foreigners built a palace for you and Britain and America give you allowance. Instead of surrendering a village, took thousands of weapons from the government, so it is clear that you have lost everything! You do not have anything, except a thief commander in Baghlan that steals the mines."
Mr. Noor's criticism did not end here and addressed to Hekmatyar: "you are known as the Butcher of Kabul, how could you came to Kabul!
On the other hand, this figure of the rescue coalition warned the government to end conspiracy and not to seek controversial issues.
"Among Afghan ethnics, specially among Pashtuns, they disunite the people under the name of Ghaljayee and Durani and gives high government positions to atheist persons," he added.
At the end, Mr. Noor warned the government not to plot anymore and not to challenge national unity.
It is worth mentioning that in the recent weeks, Gulbuddin Hekmatyar had harshly spoken about Hezb-e Jamiat Islami, Ahmad Shah Massoud, and Shiite people that followed heavy reactions as well.