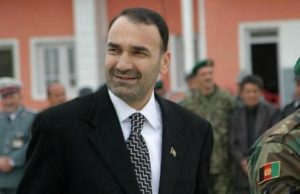 Atta M. Noor, Balkh governor, considered the year 1395, the year of achievements for Balkh, and appreciated the people, community representatives and military and civilian authorities.
According to (DID) news agency report, in the message that released to media by media centers of authorities in Balkh province, congratulated the beginning of 1396 solar year, which coincided with 5696th of Jamshidi year, to President Muhamad Ashraf Ghani, Afghanistan's cabinet, members of the legislators, the judiciary and all the people of Afghanistan.
Following the message, the year 1395 considered as the year of achievements for Balkh province, that in this year a lot of efforts have been done for prosperity, providing peace and stability, cultural and educational growth, preserving the ancient heritage, human rights and women rights, protecting public safety, consolidating national unity and the rule of law.
In the end, appreciated the military forces stationed in Balkh, Balkh government officials and the people for collaborating with the government and efforts for safety and reconstruction in Balkh.
It is scheduled that tomorrow (Thursday, Hamal first, 1396), the ceremony of raising Alami Mobarak (Jahanda) to be held with attendance of authorities and the people near the holy Shrine attributed to holiness Imam Ali (AS) like every year in Mazar-e Sharif