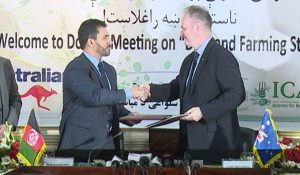 Australia helped Afghanistan's ministry of agriculture (MoA), signing a $ 2 million contract.
The Australian contribution to the ministry of agriculture of Afghanistan will be used to support farmers.
According to DID news agency report, the financial deputy of MoA Mr. Jawad says, the financial assistance will enable MoA to cover agricultural strategy in 8 dry Northern provinces such as (Balkh, Sar-e Pul, Jawzjan, Faryab, Baghlan, and Samangan).
According to a statement by the ministry of agriculture and irrigation, the strategy will pave the ground for the MoA to assist the farmers in these provinces.
An official at the Australian embassy in Kabul expressed hope that Afghan government and MoA could productively use the assistance.
Meanwhile, officials at the MoA say, implementation of the agricultural strategy in arid areas, is the main purpose of the ministry and based on the studies, $ 20 million is needed for the implementation.
This is the first time the Australia assists Afghanistan's ministry of agriculture.