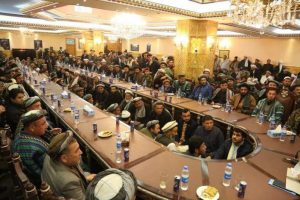 Addressing to the executive directorate and the presidency, the chief executive of Hezb-e Jamiat Islami and Balkh governor Ata M. Noor says, "I will answer coercion with force."
"The executive directorate and the presidency are against the heads of Mujahidin and seek to isolate them," Ata M. Noor stressed as speaking among the elders of northern provinces.
This prominent Afghan politician warned the central government, saying he will never bow to coercion.
Ata M. Noor has worked as Balkh governor for 13 years. According to Jihadi heads, he is the only politician who has stood up against the monopoly Arg palace.
Tensions between Ata M. Noor and central government escalated when the government vowed the resignation of Mr. Noor, but Balkh governor says his resignation relates to past, and he does not accept it now.
Mr. Noor says he continues his work as Balkh governor based on the national unity government and ready for any situation to defend his rights.
However, Kabul-Balkh confrontation is the headlines and the House of Representatives announced readiness to mediate between Mr. Noor and the presidency.