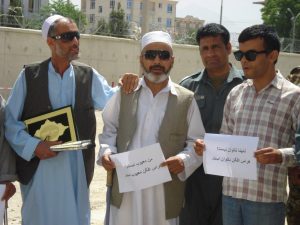 Balkh blind association in a rare move, appreciated police efforts in the province.
According to (DID) news agency report, members of the blind association of Balkh province praised the efforts of country's security forces by attending in the command post in Balkh.
Abdul Rahim Safa, head of country's blind association (former police officer) appreciated efforts of the security forces, specially national police for bringing security and order in the community.
"After this, the word "handicapped" should be addressed to those who shed blood and kill people," Sayed M. Yazdan Parast, a journalist in Balkh said.
"Handicapped is a person who creates fear, disgust and hatred among the society," he added.
"Many of those who fight against armed forces are not Muslim," Sayyed Kamal Sadat, commander of Balkh police said.
In the past, different groups of people in Balkh province had expressed their support from country's security forces.