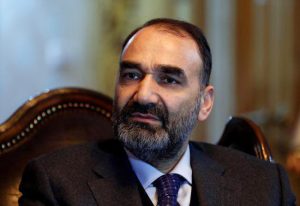 Atta M. Noor, Balkh governor and chief executive of Hezb-e Jamiat-e Islami of Afghanistan criticized the violent clash of security entities with protesters.
Governor of Balkh province by publishing a statement in connection with yesterday Kabul protests, said that civil and peaceful movement of people faced with violent and non-democratic clash of security entities!
Atta M. Noor besides expressing his condolence to the families of the victims of yesterday event, added that resorting to repressive actions with regard to the commitment of the international community and the Afghan government based on protecting and supporting democracy, freedom of speech, civil movements, democratic interests and democratic system, considered today's movement against the people, contrary to the rules and principles.
"Afghan government should pay attention that justice movements never held to overthrow the administration, but strengthen the government and follows to get out the troubles," chief executive of Hezb-e Jamiat said.
"Afghan government must soon release those youths who were detained by the security forces and do not make the people angrier," Mr. Noor added.
"The government of Afghanistan must take immediate action to identify, detain and prosecute today's agents of violence and in the case, not addressing the legitimate demands of people will act in consultation with them," he stressed.
It is noteworthy that 7 protesters were killed and dozens injured as a result of yesterday demonstration in the capital of the country that was conducted with the aim of litigating blood victims of "Zanbaq square." Incident.