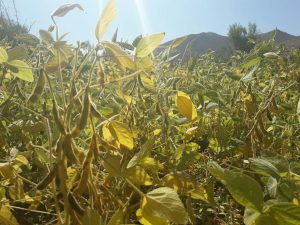 Although it was anticipated that soybean cultivation in Bamiyan province would not benefit due to cold weather, this year, the crops will be a lot better, officials at the department of agriculture, irrigation, and livestock said.
According to DID news agency report, this year, more than 2500 kilogram soybeans were distributed in several districts of the province which thankfully, the harvest is satisfactory, officials said.
"Last year, we distributed soybean products to 146 farmers in 4 districts of Bamiyan province which has had good results. However, this year, we have distributed about 2526 kilogram soybeans to 421 farmers, in 6 districts that we expect to harvest more than 40 tons," said Zabihullah Mohseni, responsible for (NAI) programs in Bamiyan province.
Although Mr. Mohseni says, 6 kilogram soybean has been distributed to each farmer, but a number of farmers say they have also bought the product from the free markets due to its quality and importance.
Sayed Azizullah, is a farmer in Yakawlang district of Bamiyan province. He has cultivated 12 kg soybean in more than one acre of land, says: "nearly 20 kg soybean had been distributed to 3 farmers in our village by the NAI organization. Although 6 kg were given for each, I bought another 6 kg from the market. They did not give us information about how to cultivate them, but as the harvest time gets close, we see that its products are far better than the bean, we had been previously planting."
"I have cultivated 12 kg of soybean and expect to gather more than 170 kg soybeans," he said.
Amanullah, is another farmer who has cultivated soybean in Kahmard district of Bamiyan province, says: "soybean is better than bean both in terms of economy and the importance of food."
Meanwhile, officials at the department of agriculture in Bamiyan province said: "soybean seeds have been cultivated in all districts of Bamiyan province but in two districts (Kahmard and Saighan) of the province is at the forefront."
"One of the reasons why the department of agriculture stresses on cultivating the product, is the importance of food that eliminates malnutrition," said Abdulwahhab Mohammadi, head of Bamiyan's agriculture, irrigation and livestock department.
"Although the soybean seeds were distributed late, now the result is positive by 85 percent," he added.
Soybean seeds which were imported from America, have had a good result during past two years in the province. Officials at the agriculture department report on the expansion and growth of the products in the coming years.
Mahdi Behzad – (DID) news agency
Translated by Taher Mojab