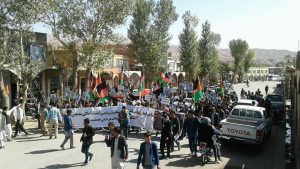 Dozens of Bamiyani citizens peacefully rallied today morning (Sunday, 17 September), criticizing the recent insecurity in the country and accused the national unity government of ignoring it.
According to DID news agency report, the protestors accused the local government of ignoring the situation, saying: "the government has failed to secure the citizens."
"The national unity government must secure the lives and property of the people," the protestors said.
The protestors consider the security of the citizens as their main and legitimate demands of the people and called on authorities to stop systematic massacres across the country.
"The incident at Imam Zaman mosque, Jawadia in Herat, Al-Zahra mosque, Zanbaq square and … are the disastrous events that worried these citizens," said Mohammad Zia, one of the protestors.
According to them, the government is blamed for the recent events in the country and must stop the occurrence of such tragedies.