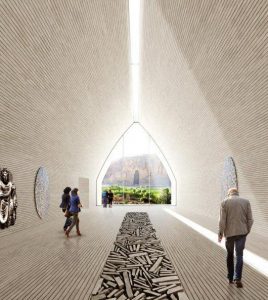 Bamyan Cultural Center is scheduled to open in the summer of 2018, three years after its design was approved.
According to (DID) news agency report, quoting from (Wadsam), In February 2015, an Argentina-based team was selected from 1,010 design entries from 117 countries for designing the Bamiyan Cultural Center.
Led by Carlos Nahuel Recabarren alongside Manuel Alberto Martinez Catalan and Franco Morero, the selected scheme is entitled Descriptive Memory: The Eternal Presence of Absence.
The jury for the selection of the scheme had emphasized on the principles of "innovation, facilitation of community, environmental consciousness, and connection to the natural and cultural landscape of the Bamiyan Valley.
The facility will include two galleries, a performance hall and a tea house.
Funded by the South Korean government, the project is worth USD 2.5mn.
The Afghan government has approved USD 1.5mn for the construction of a garden at the site.
The Afghan government vows commitment to the protection of Afghanistan's cultural heritage and will set up a major national culture program aimed at valuing and protecting the country's cultural diversity.
The Cultural Center will open new horizons for local residents and all Afghans; with the hope that this building helps people move beyond conflict, to reclaim their shared heritage and to step towards building a peaceful future.