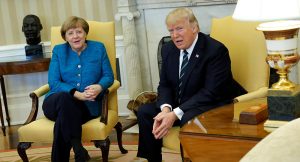 President Trump had a parting message for German Chancellor Angela Merkel.
On Saturday, one day after their meeting and press conference in the White House, Trump tweeted, "Despite what you have heard from the FAKE NEWS, I had a GREAT meeting with German Chancellor Angela Merkel. Nevertheless, Germany owes vast sums of money to NATO & the United States must be paid more for the powerful, and very expensive, defense it provides to Germany!"
All of the North Atlantic Treaty Organization's 28 members contribute according to an agreed cost-share formula, based on gross national income, which represents a small percentage of each member's defence budget. Trump has previously called NATO, an intergovernmental military alliance, "obsolete," and has said the organization needs to do more to fight terrorism. Quoted from (Market Watch).
Last week, NATO said its members have boosted spending on defense and would focus more on fighting terrorism. The organization said that 23 member nations increased military spending in 2016, but added that defense budgets in a majority of European countries remain below the NATO standard that they should spend 2% of their gross domestic product on their military.
It is noteworthy to say that earlier, Trump had promised that NATO and America support Germany.